Our Services
Bush-Hog Mowing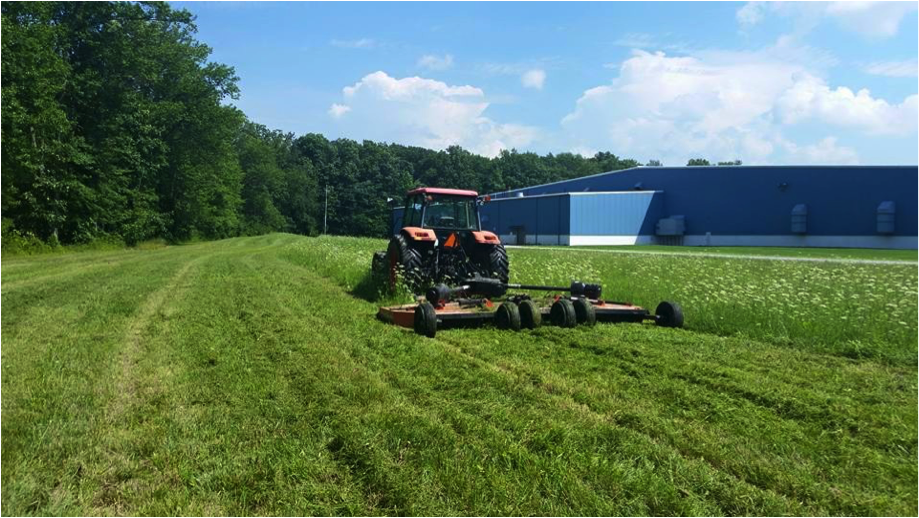 No matter how overgrown your land or property has become Libbee's Bush-Hog equipment can easily take care of the types of projects that would stop a regular mowing equipment in its tracks.
Libbee's Bat-Wing Bush Hog mowers are much more rugged and powerful than traditional lawn mowers. Our Bat-Wing Bush Hog can handle tall thick grass, large weeds and shrubs on a variety of inclines and topography with ease. Because they're equipped with thick, durable blade attached to hinges, they are resistant against rocks, large stumps, and other potential hazards.
So no matter the size, no matter the type – residential, pasture, acreage, road right of ways or commercial property and no matter if it's rough or smooth terrain Libbee's has the right equipment to handle your job.
• Vacant Lots
• Overgrown Construction Sites and Development Properties
• Power Line Right-of-Ways
• Roadsides
• Commercial Properties
• Large Private and Residential Properties
• Industrial Lots
• Fields and Animal Pastures
• Ditches and Inclines
• Retention Ponds
Slope Mowing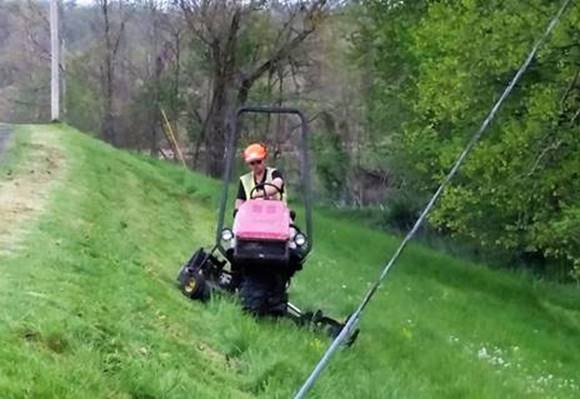 Mowing steep hills and slopes can be very dangerous without the proper type of equipment. Libbee's slope mowers are built for rough terrain and can safely mow slopes up to 34 degrees. The 2" to 6" adjustable deck height allows for greater flexibility while the two halves of the 72" deck float independently allowing for a quality cut with maximum efficiency when mowing challenging, uneven terrains.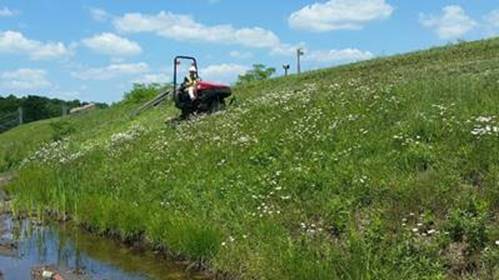 If you have dams, dikes, levees, riverbanks or steep embankments let Libbee's knowledgeable team of experienced and safety trained experts mow for you!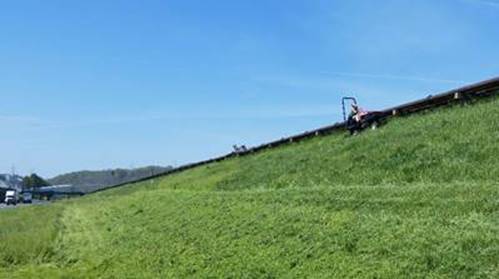 Land & Brush Clearing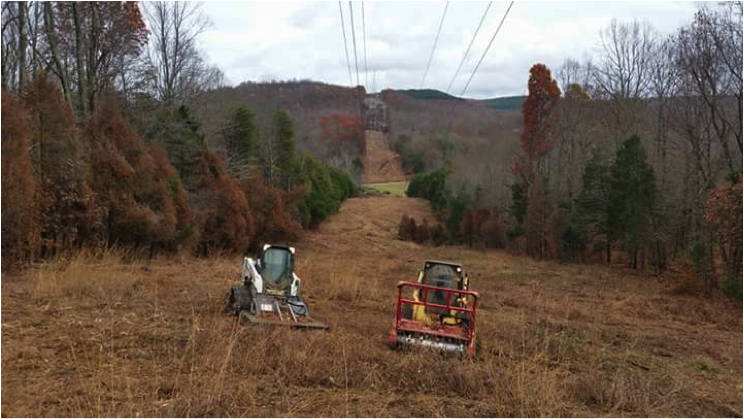 If you're thinking of expanding your lawn, blazing new walking, ATV or horse trails through woodlands or need to maintain overgrown pastures or just have a plot of land that needs cleared Libbee's Brush-Hog and Fecon Forestry Machines are designed to clear the toughest, thickest brush, weeds and saplings from your property. Libbee's specializes in environmentally friendly land clearing using state of the art Forestry Equipment. We are dedicated to land clearing without soil disturbance, stacking, burying or burning methods that can be harmful to our delicate ecosystem.
Our environmentally friendly forestry machines are designed to cut through the toughest, thickest brush, weeds, saplings and trees up to 3" thick. Our machines grind/mulch of all types of vegetation regardless of density. When appropriate the wood chips are mulched and left on site to accelerate the natural decomposition process helping to reduce soil erosion and increase soil moisture which ultimately preserves and improves the health of the remaining trees and habitat.
• Walking Trails
• Lawn Expansion
• Hunting Access Lanes
• Utility Line Clearing
• ATV Trails
• Home Site Clearing
• Pasture Mowing
• Elimination of Invasive Plant Species
• Hill Side/ Steep Slope Clearing
• Horse Trails
• Right of Way Clearing
• River Bank Reclamation
Hydro-Seeding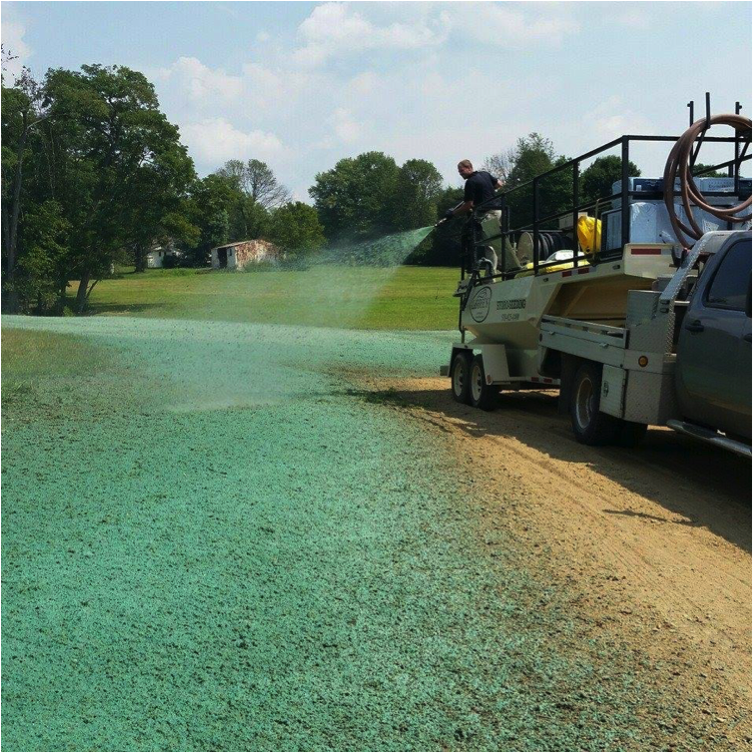 I want grass! Which is better seed & straw, sod or Hydro-Seed?
This is the question people most frequently ask us. Hand seeding requires time, persistence, hard work and, often, re-seeding. Heavy rain can wash away your seed, sun and drought can burn it out or a flock of birds can stop by for lunch. Sodding is the fastest but also the most expensive method. In just 3-4 weeks after a Hydro-Seed application, you can be enjoying a plush green yard.
With Libbee's Hydro-Seed equipment a mixture of seed, fertilizer, hydro-mulch, tackifier and water are all sprayed on the area in one fast easy step and Hydro-Seeding eliminating the use of messy straw! Once sprayed, the wet fiber mulch will help create a bond to the soil and provide the seeds with a water retaining blanketing-coat while protecting it from sunlight, wind, erosion, and pests. As the grass seeds begin to germinate, the fiber mulch will slowly decompose adding nutrients to the soil. Hydro-Seeding is great for problem areas and difficult to seed areas such as hillsides, erosion control areas and narrow areas between sidewalks and curbs.
Sod Installation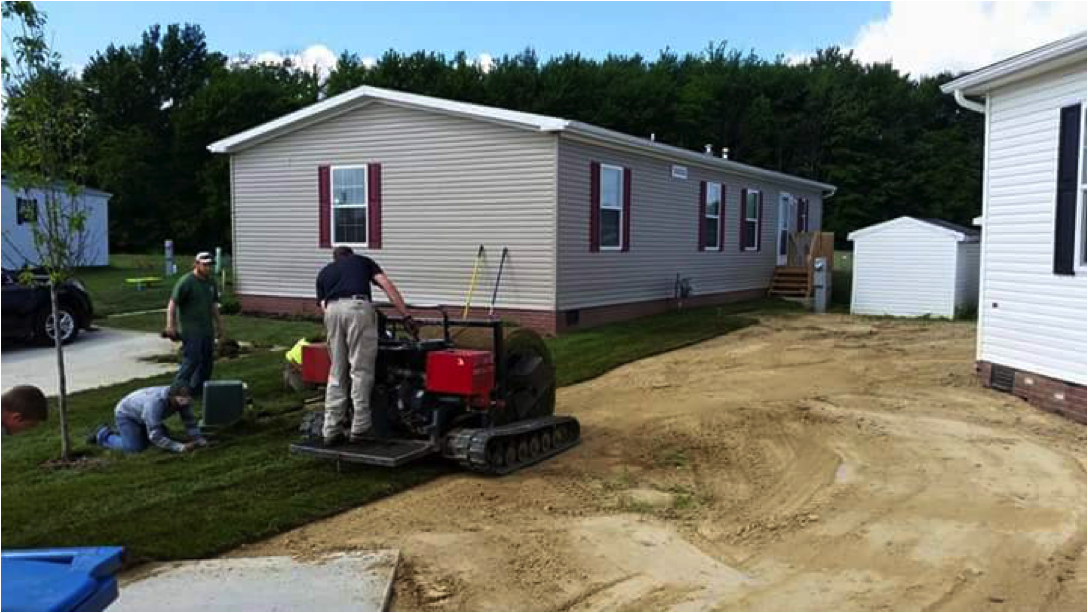 Sod can be used to repair a small area of lawn or be used to install an entire yard. Seed may be blown about by the wind, eaten by birds and takes some weeks to form a visually appealing lawn and further time before it is robust enough for use but newly laid sod establishes a lawn immediately and is usually fully functional within 30 days of installation, its root system is comparable to that of a seeding lawn two or three years older.
Irrigation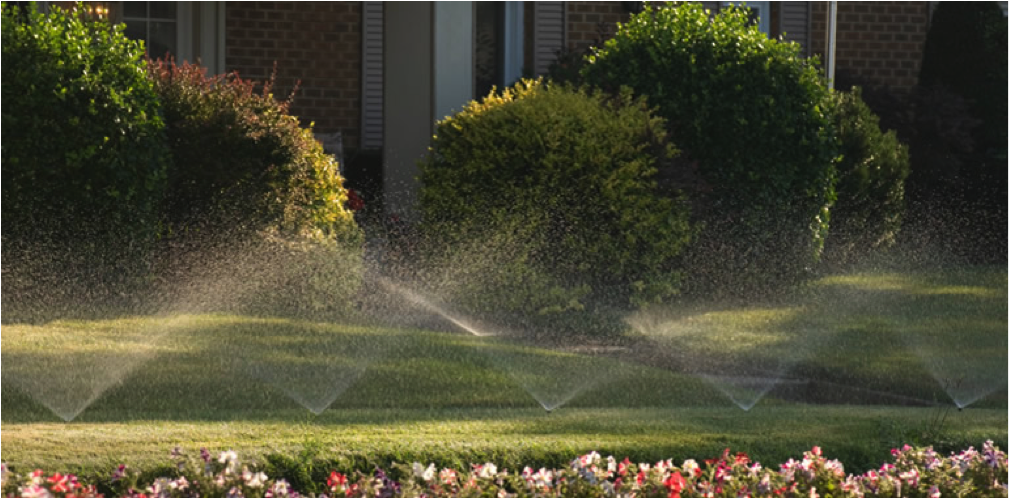 Libbee's can help you increase the value of your property by designing a complete irrigation system for your lawn and landscape beds. Stop dragging that hose around and start enjoying your time, call us today to find out how irrigation system can help beautify your landscape!
Spring Startup Inspection
Scheduling a Spring Startup is the best way to be sure that all your irrigation components are in tip-top shape after long winter shut down. Beginning in April, Libbee's will do a complete inspection to ensure your system is working properly. We'll make any repairs based off winterization notes and any adjustments that are necessary to ensure your system is operating properly.
Irrigation Maintenance
Libbee's experience irrigation team can provide preventive maintenance ideas and do repairs to your existing system.
Rain Sensor
There's nothing more frustrating or costly than an irrigation system running when it doesn't need to run so stop watering your lawn in the rain, let Libbee's install automatic rain sensor. It's most cost effective way to prevent your sprinklers from operating during or after precipitation, they are easy to install on any automatic irrigation system and a great way to ensure your system waters only when necessary. It's an inexpensive upgrade that can pay for itself in water savings in just one season!
Winterization Inspections
October begins winterization inspections, using high-pressure air Libbee's irrigation technician will cycle through each zone on your system to remove as water as possible. We'll inspect each zone and all components for problems, make a detailed list of items to be fixed in the spring. Professional winterizing your system ensures your valuable investment is protected and ready to perform in the spring.
Lanscape Maintenance
Spring Cleanup
Weather permitting Libbee's schedules spring cleanup between February and June. Our spring cleanup includes:
• Leaves, sticks and unwanted debris left over from winter is collected and removed from beds and tree rings.• Shrubbery, ornamental trees, and ground cover that were not pruned in the fall are pruned. All dead and/or damaged material is removed.
• Landscape beds and trees are edged and turned into the beds or the clipping removed if needed.
• A pre-emergent grass/weed control is applied to all beds. Existing weeds are removed or treated with post emergent.
Mulch Maintenance
Every spring a new base of mulch should be added to existing landscape beds and tree rings. This aids in the overall health and vitality of your plants, shrubs, and trees. Mulch acts as an insulator, helping to retain moisture in the soil and as a barrier against weed growth. It's fresh, natural, dark color creates contrast, which enhances the overall appearance of the landscape greenery of your home or business.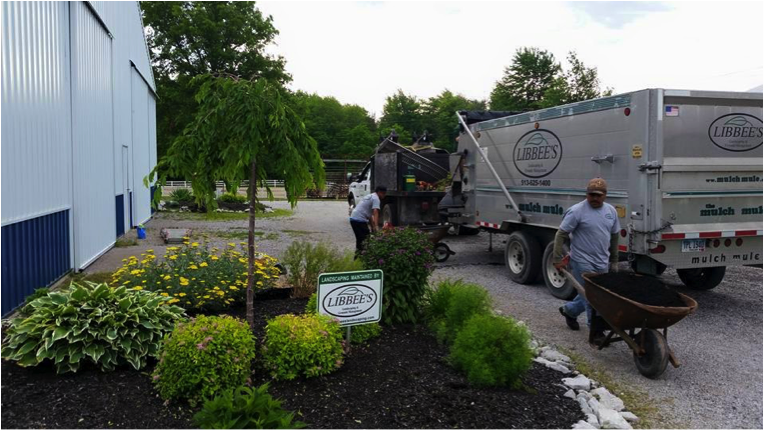 Leaf Removal
• For properties that have mature trees or densely planted trees, leaf removal is a must for maintaining a neat and clean appearance.
• Fall is also the key period for rejuvenation of turf grass so it is important that leaves do not cover the grass over the winter.
• Once leaves begin to drop in the fall, mowing crews will take extra time to mulch the leaves into fine pieces during routine mowing visits.
• When leaves start falling in heavy concentrations, they are blown together in piles with commercial blowers and either carried into a wooded area to be used as natural mulch or collected with a leaf vacuum and removed.
• A final leaf removal visit may be required in the very late fall, to leave your property appearance neat and clean looking over the winter months.
• Some species of trees do not lose all their leaves in the fall. They gradually lose them over the course of the winter months. A select few continue losing leaves into the spring up to when their new leaves begin budding.
• Therefore please be aware that minimal amounts of leaves may be present on your property throughout the winter months.
Are you tired of raking leaves, or do you enjoy raking leaves but you're tired of shoving them into plastic bags, leaving them curbside only to have them go to landfill?
Libbee's offer 2 Leaf Removal options
1. We'll rake, blow and remove your leaves from all landscape beds, patio areas, decks, walkways and lawn or
2. You can rake your leaves curbside
Either way, we'll come to your property with our state of the art equipment, vacuum and remove the leaves. Because we are committed to making a difference in our environment, we never dump leaves in landfills, all the leaves we vacuum are recycled into compost.
Do You Need Help With Your Fall Cleanup and Landscaping Maintenance?
Libbee's Landscaping & Grounds Management can help! Are you tired of raking leaves, or do you like raking leaves but you're tired of shoving them into plastic bags, leaving them curbside only to have them go to landfill? Let Libbees take the hassle out of your fall clean-up. We'll rake and vacuum your leaves or you can rake your leaves curbside, we'll come out with our state of the art equipment and vacuum them for you. We never dump in landfills, all the leaves we vacuum are recycled into compost.
Turf Mowing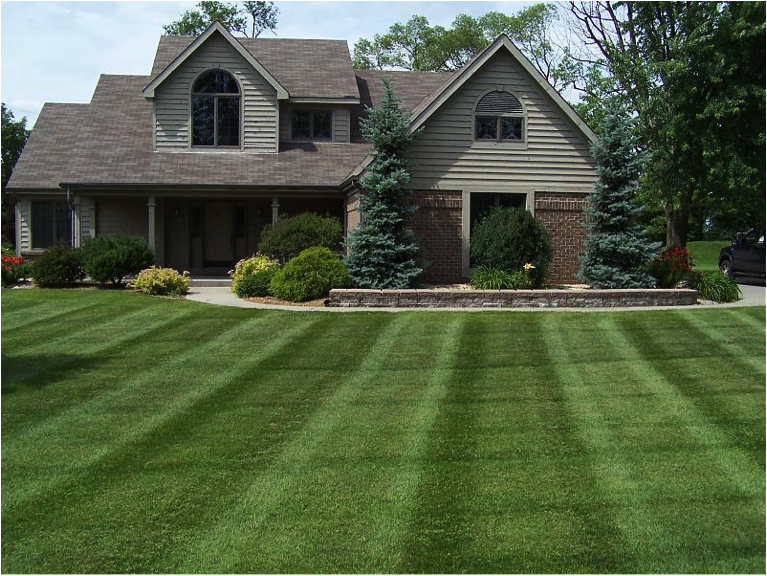 Libbee's turf mowing program is based on a 28 cut season, beginning April 1 and ending in November – Weather Permitting we'll mow your property weekly. Our turf mowing program includes:
• Trash, sticks, and other lawn debris are removed. *Excessive trash and debris can result in additional cost.
• Sidewalks and concrete borders will be edged by lawn edger or string trimmer to give the property a well-manicured look.
• Hillsides, ditches, and drainage areas will be cut using string trimmers.
• All turf around stationary objects is cut using string trimmers. Great care will be given to reduce possible damage by use of equipment.
• Driveways, sidewalks entranceways, and patios will be blown clean after mowing and edging are completed.
Libbee's professional mowing crews will keep the turf mowed so that only 1/3 of the total length is cut on each visit. We change our mower blades daily so each cut is a sharp clean cut. To reduce repetitious wear, we'll also change our weekly mowing patterns.
Snow & Ice Maintenance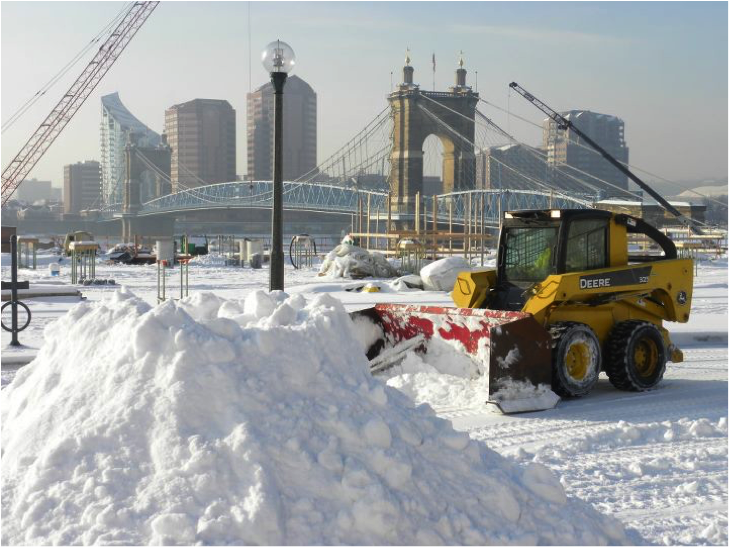 We offer full-service commercial snow plowing, de-icing, ice control, salting, sidewalk clearing and winter maintenance services. Our first priority is to maintain safe surfaces for your company. We provide consistent and quality service, twenty-four hours a day, seven days a week during inclement weather.